Unfortunately I have an
Acer Aspire ES1-332-C49U
in my possession
and the internal SSD is no longer functioning and cannot be accessed. Since the notebook has an additional HDD SATA slot, I thought I would give a go and try to install new windows on that.
I bought the required cable and first I connected HDD on it, but windows installation did not recognize the drive for some reason, then I connected an SSD and windows installation recognized it and I thought it was a done deal...but no, in the middle of the installation I get "Setup cannot continue due to a corrupted installation file"
I have tried several windows installations (from a stick, tried different USB ports), some would just hang, some would not start at all.
All are WIN10 64x PRO versions.
I have tried:
Fiddling around secure boot settings in bios and tried to boot WIN7
Tried to boot live versions of OS - no success
Different drives
Different USB sticks
Different USB ports
Different WIN10 installations and versions
This is the cable, could this be the issue? I bought it from ebay since it does not come with the notebook.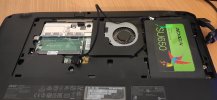 I know this notebook is a piece of junk, I didn't pay for it, nor anyone ever should
but it's mine now and I would like to see if I can make it work, boot anything.
Any advice, workarounds?