Hey all,
Many thanks to Travis for assisting me with my D-SLR choices, I just wanted to see what others thought too.
OK so here is what I'm going with.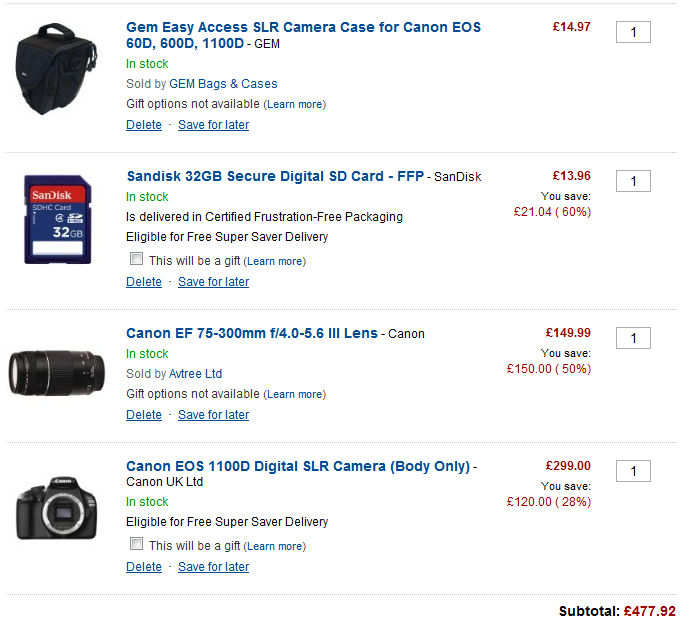 EOS 1100D body (£299)
http://www.amazon.co.uk/gp/product/B004MPQXSM/ref=ox_sc_act_title_4?ie=UTF8&smid=A3P5ROKL5A1OLE
Canon EF 75-300mm f/4.0-5.6 III Lens (£150)
http://www.amazon.co.uk/gp/product/B00005K47Y/ref=ox_sc_act_title_3?ie=UTF8&smid=A25SSRS87SUDW9
<- will this work with the 1100D?? Can somebody please confirm? This is my biggest "worry" if you like.
SanDisk 32GB SDHC card (£14)
http://www.amazon.co.uk/gp/product/B00422GVQE/ref=ox_sc_act_title_2?ie=UTF8&smid=A3P5ROKL5A1OLE
Case (£15)
http://www.amazon.co.uk/gp/product/B0042PUH5C/ref=ox_sc_act_title_1?ie=UTF8&smid=A27UIGBWAGUDML
Total is £478 pretty much. I'm going to say £500 is my absolute, absolute budget.
Anybody have any suggestions for improvement? I'd like a telephoto lens with a large zoom, the one I've chosen appears to have a large zoom - will that lens work with the 1100D/T3? Anybody have any idea roughly how big the zoom on that lens would be? I saw
this YouTube video
(skip to 2.47) and it seems pretty large, but a figure of exactly how big the zoom is would be good.
Also I'd ideally like a 32GB card as I will most likely be shooting in RAW and probably recording video too. A 16GB card is just over a fiver though so maybe I could get away with 16GB fine?
Does anybody else have any other suggestions for different cameras and lenses? As said, ideally I'd like a telephoto lens as I like zoom, I'd like image stabilization (which that lens has) - size is not an issue really. I chose the 1100D/T3 over the D3100 because apparently the 1100D/T3 has a better battery life. I know about the Pnetax K-r too, they're expensive here - too expensive for me.
I'm going to keep the Fuji most likely even once I've got my SLR. Not sure when I'm going to be buying all of this, could be a way off yet I think.
These are just ideas/suggestions.
The whole thing (including a bag and SD card) needs to ideally come to less than £500.
Thanks!
Last edited: