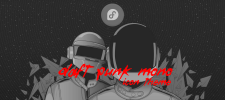 Greetings,
Currently I'm working at a dark icon theme called "Daft Punk Mono". It was heavy inspired by a wallpaper of Daft Punk I saw.
The icon theme will be available for Gnome, XFCE, Deepin and Budgie DE and should work with various WMs (though not tested).
I'll take icon requests if you want a specific app icon to be included.
Download
--------------
Coming Soon
Video
--------------