My Wireless headset connects fine, and it works mostly fine.
does anyone know why the symbols are showing up as a keyboard?

also, on another issue.. if the computer goes to sleep, and then wakes up the headset volume is 100% regardless of where the volume slider is set (it says 30% but its BLASTING at 100%)
note this is only after waking up from sleep mode
the only way i've found to fix is this is either restarting the computer, or removing the bluetooth device and reconnecting it. both of which are a pain.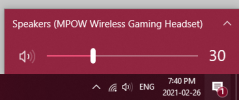 Blue tooth and Audio drivers are up to date.
thanks for all the help everyone.