Hello
I decided to update my laptop:
ASUS ROG GL702VSK
Intel Core i7 7700HQ
12 GB Ram
1TB HDD
GTX 1070
I'm not specialist from that kind of staff. So I educated myself online. I found out that crucial company has tool to scan your system and suggest possible updates. I trusted results and replaced my hdd with 1TB
SAMSUNG 870 QVO SATA III 2.5"
and also added
Crucial P5 1TB 3D NAND NVMe
. I also replaced 12 GB ram with 32 GB ram. I reinstall Windows 10, everything was fine till suddenly i got BSODs coming out of nowhere. Beside that system sometimes randomly was freezing. I couldn't figured out what was wrong. One of my friends suggested to replace new ram with old one and see if problem will still occur. So I did what he said. I replaced my new ram with my old one and seems like there is no more issues.
Before replacing new RAM with old one I run memory test and everything was ok. Looks like I bought wrong RAM. I'm really upset because crucial website suggested it and i trusted them.
Im sending you guys picture of my old RAM 8 GB and one of new 16 GB. Could you guys please tell me what was wrong with those new 16GB and send me amazon link to 2x 16 GB ram that will fit my laptop and won't cause any issue.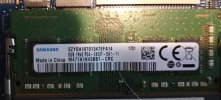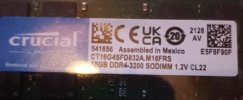 Thank you so much for future help