Hello. So I am having internet issues with my Computer. The speed test shows the internet is fine that I am getting the speed I am paying for but when gaming like Call of Duty or Rust I keep losing connection constantly and getting dropped out of the match, even Facebook and Youtube won't load at times or take very long to load, whereas before it used to be almost instant.
The drops happen every 30 seconds to max of 5 minutes before they occur again but it never stops it keeps constantly happening. I updated the LAN drivers on my Z390 Aorus PRO but that didn't fix it. I also just got a new Router/Modem replacement from my ISP and did a fresh Windows 10 install yesterday but it doesn't fix the issue. New ethernet cable did not fix it. I use my computer via Ethernet directly from the Router/Modem unit which is 3 feet away from my PC switching to USB Wifi Adapter did not fix the issue either. I don't have another computer at home to test the Network on. My last option is to bring it to a local Computer shop in town tomorrow and they are going to let me use it on their Network for a little bit to see if if the issue still occurs.
I will try to record some gameplay of the issue and posted on here but I am pretty much out of solution at this point since nothing I tried has worked. I was hoping maybe someone else might have some suggestions?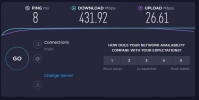 Last edited: